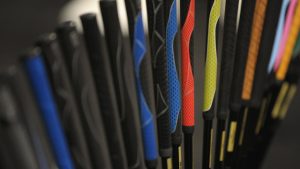 Amongst the most overlooked pieces of equipment as far as golf is concerned is a good golf grip. Indeed, it's easy for golfers to change their shoes their clubs and even their bags, but placing emphasis on a good golf grip lags behind. Let's take time to consider what to look for in the best golf grips before going out to buy one.
BEST GOLF GRIPS
Different Types of Grips
There are a variety of golf grips available in the market each with its own benefits. These include:
Rubber Grips
This is the most common type of grip that you can find on the market. Rubber grips form easily around the handle and provide a firm feel. They are also easy to produce. You can also find grips made from silicon or plastic.
Corded Golf Grips
These are characterized by a cord that runs the length of the grip. They have the advantage of providing good traction to your hands which comes in handy when its drizzling or when it's hot and your hands are perspiring. The main draw back with this type of grip is that they can be a bit abrasive.
Wrap Grips
If you need a tacky feel to your handle, then wrap grips offer just that. They are made from a strip that is wrapped around the handle to provide a smooth and comfortable feel.
Putter Golf Grips
There are two main types of putter grips, those made for iron putters and those for wood grips. The main thing to note is that since the putter doesn't require you to use a lot of force, the grips don't come with much traction.
Putter grips are the only type of grips that come with a flat edge. This allows you to place your thumb in exactly the right position.
All the above types of grips can be put into general categories. These are:
Firm Grips and Soft Grips
You need to keep in mind the benefits of these two types of grips before making a buying decision. Firm grips allow you to grab the club with less pressure. This serves to provide an improved torsion control.
On the other hand, softer grips will provide more comfort to the hands allowing you to place more pressure.
Ribbed Grips and Rounded Grips
Golf grips will come either rounded or ribbed. The rounded type offers uniformity throughout the length of the handle. The ribbed variety provides the user with a feel of where the fingers should be placed.
Picking the Right Grip
Now you know how you can re-grip as well as the different types of grips available.  But how do you choose the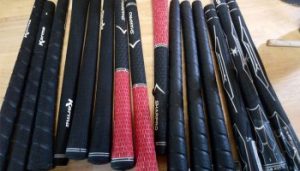 right type of grip for you? Here are a few factors that you need to observe
Size
Check out the size of the grip and ensure you are compatible with it. A golf grip that is large will reduce the pronation of your wrists which can result in you pushing the shots. One that is too small will cause you to add extra action with the hands resulting in ball pulling.
Material
The material used to construct the golf grip is another consideration. They offer different grip levels.  They also come with varying levels of durability.
Weather
Consider a situation when you are playing golf in wet weather. Corded grips are best in such a situation compared to rubber grips which could slide easily.
Let's now take a look at the best golf grips on the market
Winn Dritac Golf Grips
This excellent golf grip comes in 6 different colors to suit your golf clubs and outfit. These include blue, Black/Red, Grey/Blue, Navy Blue and Grey. The Winn Dritac golf grips will also come in 3 sizes; standard, midsize and oversized.
If you are in search of a simple to replace grip that offers excellent traction, then this golf grip is something to look out for. When new, you can almost confuse with having new clubs.
You get a polymer design With the Winn Dritac Golf grip. This golf grip also features a wrap design. Other features include plenty of shock absorption properties and the polymer cushioning adds to a comfortable grip.
Features
Shock absorption properties
Weighs just 50 grams
Wrap design
Provides superior cushioning thanks to the polymer construction

Comfortable on your hands
Provide excellent grip
Work well in wet weather
Simple to replace
Are not the most durable and could wear out quite fast
Price is a bit on the higher side
13 Two Tones Multi Compound-cord Golf grips
With these grips you get to choose from two main colors. These are red/black and blue/ black. They are constructed from a special compound made of velvet, feature a rubber design at the bottom and are corded at the top.
The 13 Two Tones Multi Compound-cord Golf grips will provide you with the grip you need thanks to the cord on the upper end of the golf grip. This provides you with greater control. The rubber situated on the lower end works to give you a better more comfortable handle.
All this at an affordable price. If you are conscious of this and you need golf grips that provide great performance while still being affordable, then the 13 Two Tones Multi Compound-cord Golf grips are the ones for you.

Comfortable around your hands
Great value for the price
Provides good grip
They may be a bit hard on your hands
Winn Dri-Tac Standard Grip Kit
If you are in search of a tacky golf grip, then take a look at the Winn Dri-Tac Standard Grip Kit. You can get this grip in 3 main colors. These are navy blue, black/red, and dark grey.
The contoured wrap design provides you with excellent grip. Never worry about the club slipping from your hands even during rains. The material will absorb moisture to help you make that all important swing.
Weight was something that was considered during the design of the Winn Dri-Tac Standard Grip Kit. Featuring special WinnLite Technology the golf grip weighs just half of what it would have without this technology in place.
When you purchase this grip you get a kit that includes 13 grips as well as grip tape strips, 13 in total. You will also receive a bottle containing grip solvent and a clamp to hold everything in place.

Easy to use golf grip
Very comfortable on your hands
Great value for your money
Are not the most durable grips and could wear pout quite fast
Golf Pride Tour Wrap 2G Grip Kit
Are you in search of a comfortable golf grip with extra tackiness? If so then check out the Golf Pride Tour Wrap 2G Grip Kit. It is made from extra soft material that improves the feel of the grip on your hands. You are able to choose from 3 main colors. These are red, white and blue.
Made from leather, it is the right combination of affordability, performance and great looks. After all, you need a neat grip that complements your golf clubs. The tackiness makes it ideal in wet weather. You no longer have to regulate the amount of pressure you apply as the grip will absorb that moisture providing you with a secure grip to make those quality and accurate swings.
The Golf Pride Tour Wrap 2G Grip Kit needs a clamp when putting it on the handle. You get a grip kit handle with the purchase which includes 13 grips as well as a total of 13 strips of 2-inch double-sided tape. You also get a bottle of solvent and a rubber clamp.

Simple to put on
Good quality grip
Excellent value for the money
They are attractive to look at and do well to improve the aesthetics of the clubs
Come with a grip kit to help put on the golf grips.
Golf Pride Mcc Plus 4 Grip
With plenty of variety when it comes to the colors, you will likely find the right one for your golf clubs. These include orange, green, blue, red and grey. The sizes come in standard. Made by one of the best manufacturer in the market, the Golf Pride Mcc Plus 4 Grip are corded giving you excellent feel and control.
On the lower hand, you get four extra wraps. This ensures you do not add excessive pressure on your hands allowing you to achieve a seamless control over the swing. On the upper hand, you get a moisture wicking capabilities of the grip. This is courtesy of the brushed cotton cord.

Very good looking golf grip
Provides a consistent feel
Provides great grip
The price is a bit high
Not the simplest golf grips to put on
Conclusion
In our view the best golf grips are the Winn Dritac Golf Grips. They provide excellent grip and will absorb moisture making them ideal in wet weather. The wrap design offers excellent feel and comfort and they are simple to put on. All this at a great price.