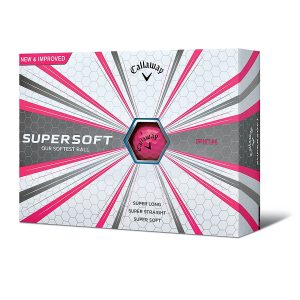 Best Golf Balls For Women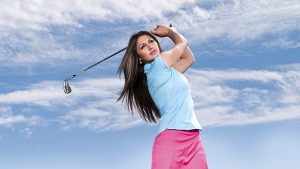 There are golf ball manufacturers that say there is no need to make specific golf balls designed for women. However, most people tend to agree that due to the physical differences, a woman needs a golf ball that is more suited for her. Before we take a look at our list for the best golf balls for women, let's look at a few factors that one needs to consider.
BEST GOLF BALLS FOR WOMEN
Swing Speeds
Most women have a swing speed of between 60 and 70 mph. The average male can master three times this number. It explains the differences with the golf clubs as those designed for women are less heavily built. When it comes to the golf balls, the best types have low compression. This normally translates to greater ball flight distance.
While low compression balls are also suited for beginners, they can work just fine for women who need to maximize on flight distance.
Better Control
Distance isn't everything. Plenty of male golfers obsess about the distance covered but it's important to keep in mind that most shots are usually taken at around 50 yards from the hole. This is why you need more control on your golf ball.
The best golf balls are those that provide plenty of spin. Golf balls made from urethane will provide you with spin, but they are also in the higher price range. They also have high compression as they are firmer.
On the other hand, golf balls made from suryn have lower compression and will also provide the spin needed. They can work well for women.
Stopping Quickly When on the Green
This is what you are looking for. A ball that will not continue rolling when on the green. This is due to the fact that women often achieve less height and distance than men. Look for a ball that offers adequate backspin when on the green to allow it to stop quickly.
Further Ball Flight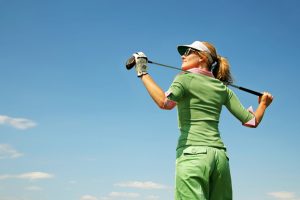 Here we are referring to both height and distance. If you have a lower swing speed, you need a ball that will help you achieve flight distance and height. This normally comes down to the dimples on the surface of the golf ball. These trap the air and reduce resistance. Research on the best dimple pattern as well as how sharp or deep they need to be.
The Feel
Different people will approach this criterion differently. It all comes down to personal preference. Some prefer a softer feel while others like it firm. If you are comfortable with how your golf ball feels, you will likely be more confident with your shots and this will improve your overall game.
Low Side Spin
This can result in the ball flying wildly off mark. Women generally are less likely to veer off line due to their low swing speeds. However, it is still a good idea to get a golf ball that does not side spin as much just to keep the shot on target.
With such information in mind, lets now take a look at the best golf balls for women.
Callaway 2017 Supersoft Golf Balls
This particular model has such a low compression it will leave you astounded. Infant, Callaway claim that of all the golf balls they have created, the Callaway 2017 Supersoft Golf Balls has the lowest compression. This is what makes the golf ball so ideal for women. With their lower swing speeds they are able to achieve greater distance.
Another feature that works to boost the distance covered is the Premium HEX Aerodynamics design. This has contours that are more refined which allows the golf ball to easily gain height thanks to the reduces air resistance. More height means the ball will travel further.
Not only are you able to get good distance, you will also be able to have better accuracy. This is necessary if you want to improve the quality of your game. The core of the golf ball results in faster speeds, less spin and a straight shot.
A quality soft feel is what you get with the Callaway 2017 Supersoft Golf Balls. This is courtesy of the tri-ionomer cover. The wedge spin which is as a result stops the shot when on the green.

Soft golf ball
Provides greater distance thanks to the low compression
Great value for the money
They are quite hard even with the softer feel technology in place
Bridgestone 2017 Lady Precept White Golf balls
This is an excellent choice for people and women with lower swing speeds thanks to its soft design which offers low compression and therefore more distance. This model is the softest that Bridgestone has made.
What is interesting about this golf ball is that it features very low compression while also being able to maintain a respectable degree of firmness. You might think that the ball is super-fast before you try it out but after taking the shot, you will be amazed at how it feels
The Bridgestone 2017 Lady Precept white golf balls is also quite accurate. When it lands on the green, the minimal spin means that it will stop within a couple of yards. The bright yellow colors make it easy to spot among the bushes. You will not lose many golf balls which saves you money.
When on the green, this golf ball is simple to work with allowing you to easily chip and putt. 330 dimples allow the golf to achieve height and distance. Inside is the soft gradational core which is responsible for the soft feel.

Choose between white, pink and yellow
Good balls for the price
Soft feel allows for distance
Provides good control
Not very durable due to the soft cover
Callaway 2015 Solaire Golf Balls
If control and distance are what you are looking for then take a look at the Callaway 2015 Solaire Golf Balls. They feature a soft feel and a very resilient core. Both of these work to improve on ball flight height and distance.
The color is also quite beautiful to suit the fairer gender, a pearlescent shade. You can also choose a pink coating that ensures that you do not lose the ball easily on the green.  Concerned about your swing speed and how it affects the distance you can achieve? The Callaway 2015 Solaire Golf Balls have these sorted for you. Low compression means that the balls travel further with better control and accuracy.
To create a more aerodynamic flight, the golf balls come with a HEX design. This helps too reduce the resistance and fly through the air more easily. Less resistance also translates to greater distance. These golf balls will certainly improve your game and performance.

Soft feel and low compression increases distance
Great value for the money
Come with bright colors to better spot the golf balls on the green preventing loss
Provide a straight flight for more accuracy
Not the most durable golf balls
Titleist Pro V1 Golf Balls
Durability, greater distance while also having more spin and low compression is what you get with the Titleist Pro V1 Golf Balls. The urethane cover ensures more distance and control. With this model, you get extra-long game spin and a straighter path of flight.
These excellent qualities are due to the basic design. This is a three-piece design golf ball. It has a total of 352 dimples which work to reduce drag ensuring that the golf ball flies further and faster. Plenty of backspin means that the Titleist Pro V1 Golf Balls stops easily and quickly on the green.
The cover is made from urethane. This adds to more control while also maximizing on durability.  The dimples are tetrahedral ensuring greater flight. The Titleist Pro V1 Golf Balls also come with a thin layer casing. This serves to increase the flight speed.
The core also results in a reduced spin. Less spin during flight translates to greater ball distance.

Soft ball provides lower compression and more distance
Great value for your money
Provides more control
Not the most durable golf ball
Pinnacle Soft Golf Balls
The Pinnacle Soft Golf Balls are the right combination of soft feel and low compression. This makes it a well performing golf ball able to provide good distance. For women, the softness of the golf balls and low compression means that even with a low swing speed, you can achieve greater distance.
On top is a soft ionomer cover that adds to the soft feel. combine this with the high energy core and the Pinnacle Soft Golf Ball will certainly tempt you to try them out. And why not? You get 332 dimples on the surface. These improve the flight height and distance by lowering the air resistance.
Worried about losing the golf balls? You get to choose between pink, white/pink or simply white. The bright colors make the golf ball highly visible even in the bushes.

Visible golf balls
Low compression allows you to achieve good distance
Have a soft feel for greater control
The pink color is quite light
Conclusion
The best golf balls for women in our opinion is the Callaway 2017 Supersoft Golf Balls. These golf balls seem to have everything a woman golfer could want. From providing straight shots to low compression that results in more distance to yellow or pink colored balls that make them easy to spot.