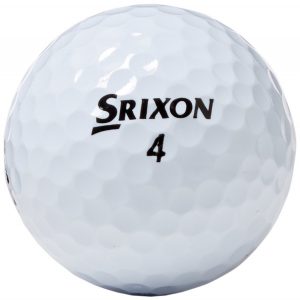 Best Golf Balls for Seniors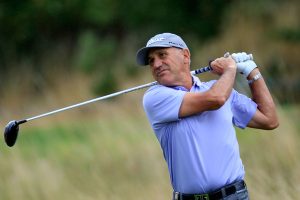 The good game of golf is fun for both young and old. However, senior players are presented with certain challenges. For one, their swing speed is not as it used to be and regular golf balls will only serve to make the game even tougher for them. This is why seniors need special types of golf balls.
These golf balls are centered around two major factors. These are enhancing the distance and the spin. Let's consider a few factors to keep in mind when determining the best golf balls for seniors and later take a look at our pick for the best golf balls for seniors.
BEST GOLF BALLS FOR SENIORS
Material Construction
When out on the market looking for senior golf balls, you will find two materials to choose from. These are suryn and urethane.
Suryn golf balls are firm compared to those made from urethane. They however provide more control and less spin. When you take a swing, you will achieve less ball height but will also get a much straighter trajectory.
Urethane golf balls are softer. While they could seem like the best option for people with slower swing speeds, they have more spin which reduces on control. This is why seniors often opt for suryn golf balls.
Construction Design
There are mainly three types of construction. These are single layered, double layered and triple layered golf balls. Since seniors often have slower swing speeds, they do best with a double layered design. These have the extra benefit of being both sturdy and affordable and helps achieve greater distances.
You might however prefer the golf ball which offers higher spin. In such a case you are better off with a triple layered design. You get better control but at the expense of distance. It all comes down to your personal preference.
The Dimples
The dimples on a golf ball have two main purposes. Firstly, they counteract air resistance by trapping the air in the dimples and moving it along the surface. This results in the golf ball flying further and achieving more height and distance.
Second, how the dimples are designed will determine how much spin the ball has. Deep dimples will increase spin while shallow and broad dimples will reduce the spin. As a senior you probably want less back spin in order to achieve more distance when the ball hits the green.
Compression
Golf balls come with compression measurements of between 0 to 200. The lower the compression the more the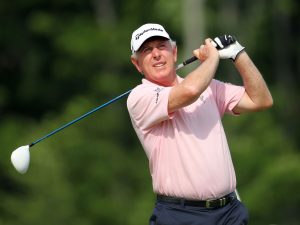 ball deforms when in contact with a club but this also results in further ball flight. Note that this is so when your swing speed is low.
On the other hand, a high compression means that you need to exert more pressure to achieve further ball flight. Balls which have a high compression are often reserved for younger and more advanced players who have greater swing speeds.
As a senior with such knowledge you will likely do best with a golf ball which has a lower compression to improve the distance with your low swing speed. With this is mind, let's take a look at our pick for the best golf balls for seniors.
BEST GOLF BALLS FOR SENIORS
Titleist Pro V1x Golf Balls
With the Titleist Pro V1x Golf Balls you get a top performing and consistent golf ball. It combines the latest in technology to give you something that is highly reliable and suited to your needs as a senior player.
At the center is a ZG Process Dual Core. This maximizes on ball speeds helping you achieve the distance required with a lower swing speed. On top is a thin ionometric cover that is designed to reduce the spin. This also works to increase flight distance and height.
The Titleist Pro V1x Golf Balls feature a soft urethane cover helping to enhance the ball flight thanks to its spherical 328 dimples. They counteract the effects of air resistance making the golf ball fly higher and further. Senior players need this to achieve greater distances.
The urethane cover also gives you better control on the green. There is less spin meaning the golf ball wont veer out of target and with a straight flight, you will be able to enhance your accuracy.

Great performing balls
You are able to achieve greater ball distance
Durable golf balls.
Provides more control
The price is a bit on the high
Callaway Golf Chrome Soft Golf Balls
Not only do these golf balls from Callaway come in a white color you also get yellow and white/Truvis pattern. These two colors come in handy when playing on green that is surrounded by bushes. Golf balls can easily get lost but the Callaway Golf Chrome Soft Golf Balls are easy to spot. This will save on the unnecessary expenses of getting new ones.
Distance is on your side. This is thanks to the low spin properties of the golf balls. Low spin translates to further ball flight and thus greater distance. Combine this with the HEX Aerodynamics design and you get a golf ball that covers exceptional ground with moderate swing speed.
Another feature to look out for is the low compression. This provides for a much softer feel. There are two benefits to this. First the ball flies further with a low swing speed and second you get more control and a straight flight path. This then means greater accuracy.
The cover is urethane providing for a soft feel and allows you to make those consistent shots. With the Callaway Golf Chrome Soft Golf Balls, you no longer have to make the decision between low spin and achieving distance. You finally have a golf ball that combines the best elements of both.

Different colors make these golf balls easy to spot
Offers consistency and accuracy
Provides good distance with lower swing speeds
Top Flite 2016 XL Distance
As a senior player you want a golf ball that ensures greater distances with low swing speeds. This is what you would call efficiency. The Top Flite 2016 XL Distance is here to provide you with just that. The core is termed as high resiliency. It provides low compression and thus more distance.
The core is not the only thing to enhance distance. The cover is made from a thin ionomer. It is designed to keep the spin to a minimum. This results in less resistance and this more flight. More flight translates to more distance.
The cover also provides the golf ball with durability. After all, you want something that is both soft but offers you with enough durability to the effects of the club. Ultimately this will save you on having to spend more money getting new golf balls.
The dimples are yet another factor that ensures the golf balls offer maximum distance. They work to enhance the launch and make the golf ball rise higher due to the countered effects of the air resistance.

Durable golf balls
Soft for better control and accuracy
Low compression means that they result in good distance
They are not the best quality golf balls
Callaway HEX Chrome Golf Ball
Featuring a simple design yet incorporating some of the best technology is the Callaway HEX Chrome Golf Ball. One of such is the S-Tech core which provides low compression. This will help a senior player achieve the distance required.
The core has a second function. It ensures minimal spin. Spin increases the balls resistance reducing flight. With a low spin, you can achieve optimum distance with a relatively moderate to low swing speeds.
To further assist the Callaway HEX Chrome Golf Ball reach maximum flight height, it comes with a HEX Aerodynamics pattern which works against the effects of gravity. This ultimately results in more distance.
The cover is made from DuraSpin formulation. This is what gives the golf ball its soft feel. you end up with a golf ball that is not only provides great performance and control but is also accurate as well.

Great ball for seniors and provides ample distance
Durable construction
Great value for the money
Srixon Q-star 4 2018 Golf Balls
This is an excellent two-piece golf ball that offers great distance with moderate swing speeds. Not only that, you are assured of better control on the green thanks to the spin. With a low compression, the Srixon Q-star 4 2018 Golf Balls will provide you adequate distance to enhance your game.
The spin is a result of the spin skin cover. With 338 dimples on the surface you get a golf ball that achieves flight quite fast with greater efficiency. You also get an aerodynamic design that allows for easier movement across the air to the target.

Aerodynamic design improves flight
Low compression increases distance
Conclusion
The Titleist Pro V1x Golf Balls have to take the title for the best golf balls for seniors. Able to achieve greater ball flight with the 328 dimples and providing greater control with low swing speeds, you are able to enjoy an enhanced game at an affordable price.